Molly Coogan Bride triumphs in Team Green Poster Competition
Molly Coogan Bride, age 9, from Scoil Naomh Pio in Knockcommon, Co. Meath was today, 15 November, announced as the first winner of the Repak 'Team Green for Schools' poster competition.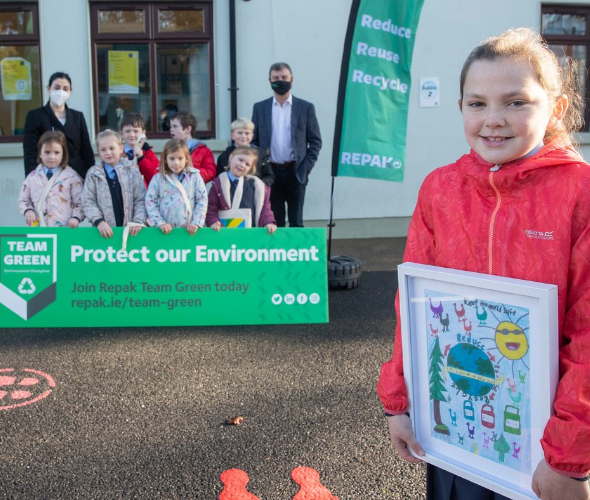 Séamus Clancy, CEO of Repak, presented Molly with a framed print of her drawing, together with a voucher and the jigsaw version of her award winning poster, entitled 'Keep the World Safe'.
Séamus Clancy commented: 'Today really celebrates both the creativity and awareness of young people and I would like to thank Principal Marie Taaffe for facilitating this pilot project. I was very impressed with the quality of entries and how each student highlighted the need to Reduce, Reuse and Recycle in order to protect our environment.'
The inaugural colouring competition was open to children from junior infants to sixth class, and involved designing a poster using the theme 'reduce, reuse and recycle'. The winning design was transformed into a jigsaw which will now be promoted as part of the Team Green for Schools primary school programme.
The Repak Team Green for Schools encourages young people to become part of the recycling conversation and offers practical information on how to protect the environment through reducing, reusing and recycling more and better. To learn more about Team Green for Schools click here.