Team Green for Schools Colouring Competition Winner Announced
Repak launched the 'colour in for a chance to win' competition in April which invited children to download and colour in posters from its Team Green for Schools primary school recycling resources and add their top recycling tip. The competition also encouraged children who did not have printers at home to get creative and recreate the Repak posters. Entries were submitted to Repak's Facebook and Instagram accounts over the course of the two-week social media campaign.
The competition attracted a fantastic level of engagement from children between the ages of 4-12 years. Competition entries showed that Repak's younger audience are not only amazing artists but recycling experts too! Top recycling tips included making sure items were washed before recycling, knowing the correct recycling collection dates for your area and involved the display of posters to remind everyone in the household about putting the right items in the right bin.
We are delighted to announce our competition winners; Ava Donnellan age 8, Maria Syed-Ahmed age 5, Oliver O'Connor age 4 and Jack Fitzharris age 12. The four lucky winners each receive a €100 One4All gift voucher as recognition of their top recycling tip and artistic entry. Please see the winning entries below.
We would like to thank all the children who entered the competition and all parents/guardians who submitted entries on their behalf through social media. By taking part in the competition, children were introduced to Team Green for Schools recycling enthusiasts Bobby the box, Cormac the can, Bridget the bottle and Jenny the jam jar! These playful characters are advocates for recycling best practice.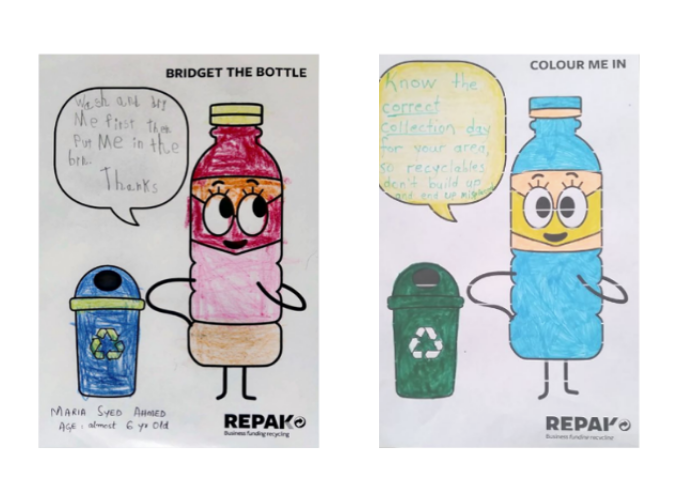 Ava Donnellan and Maria Syed-Ahmed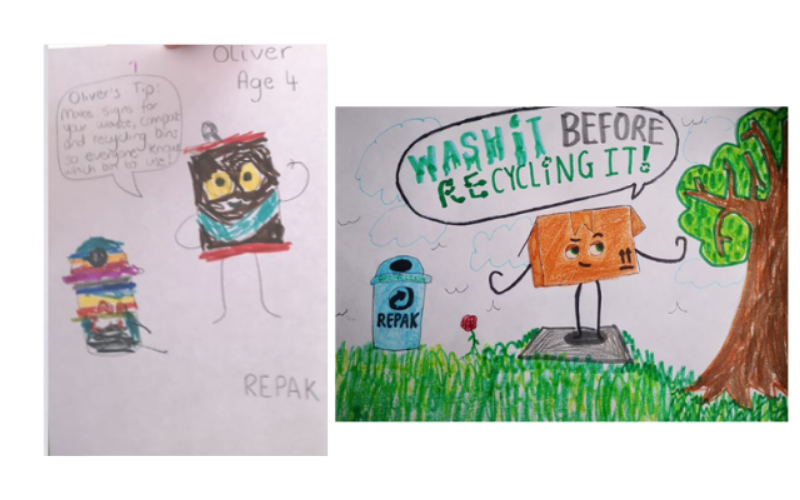 Oliver O'Connor and Jack Fitzharris
To find out more about Team Green for Schools or get more useful recycling resources, such as lesson plans, word searches and quizzes visit the Team Green for Schools page on the Repak website.