Recycling Targets
As Ireland's only compliance scheme for packaging recycling, over the past 20 years Repak has helped Ireland not only consistently achieve its EU recycling targets for the five main materials but significantly exceed all of these targets. We work closely with our Members, Recovery Operators, Government and Local Authorities nationwide, to drive best practice in waste management and to encourage everyone to reduce, reuse and recycle.
Recycling and Recovery Statistics 2018
In June 2019, we announced that Ireland had surpassed every recycling and recovery target set for it by the European Union, for the twenty-first year in a row, with recycling rates as follows:
Plastic at 33% (EU target 22.5%)
Paper at 78% (EU target 60%)
Metals at 79% (EU target 50%)
Glass at 86% (EU target: 60%)
Wood at 95% (EU target 15%)
In total in 2018, Repak funded the recovery and recycling of over 904k tonnes of packaging waste, an increase of 86k tonnes from 2017, demonstrating a 10.5% increase on 2017 and the highest volume recorded ever in Ireland.*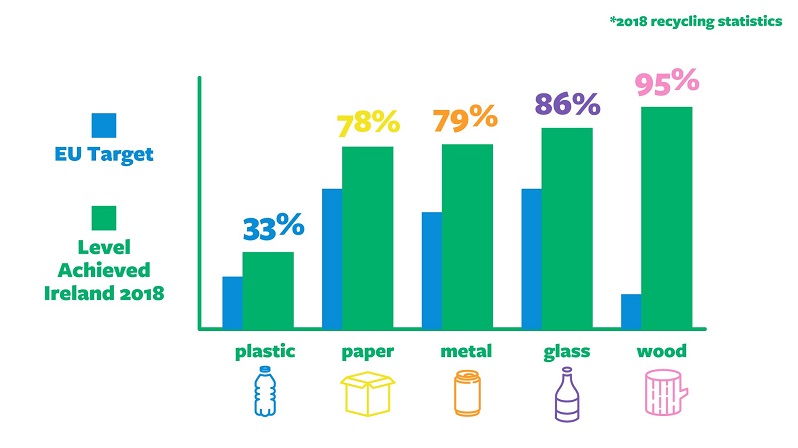 The Plastics Challenge
While Ireland is exceeding the current EU recycling target of 22.5% for plastics, with an estimated recycling rate of 33% in 2018, we must meet ambitious targets for plastics recycling of 50% in 2025 and 55% in 2030 under the Circular Economy and EU Legislation.
The table below details the breakdown of Plastic Waste Packaging managed in Ireland in 2018, showing what percentage was recycled (33%), recovered (58%), and recycled & recovered (91% - one of the highest in Europe).
Breakdown of Plastic Waste

Packaging Management

Tonnes
%
Total plastic packaging
289,458
100
Plastic Recycled
96,099
33
Plastic Recovered
166,707
58
Total Recycled and Recovered
262,806
91